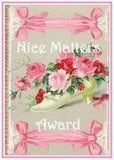 I'm feeling a bit low these days and I'm not really in the mood for blogging. But something encouraged and made me smile today. I was awarded
"Nice Matter's Award"
by
Arlene
, having this award reminded me of how much I love blogging and it inspires me to continue spreading how God worked in my life through my illness and share my deepest thoughts and emotions to somehow touch somebody's life.
I'm sharing this award to my two other blogs:
Pieces of Me
and
Dancing With Butterflies
I should be awarding this award too, but I can't do it today maybe later I'll give this one out to other bloggers who inspires and who has been nice to me.
Happy TGIF everyone!
Labels: Blog Awards, personal