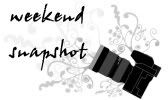 It's been a while and I miss all of you weekenders. My weekends for the past few months were not as interesting as it should because I've been sick with my longest Lupus flare ever. I am still sick but slowly I am getting better. I hardly go out with my friends anymore because I still can't travel on my own but my family is always with me and last weekend was spent with my cousins, nephews and nieces. The summer heat is getting worse each day and there's no better way to beat it than go on a fabulous swim.
The water was so refreshing and the kids and the adults enjoyed every minute of it, I did!
So how was your weekend?
Labels: meme, personal, weekend snapshot