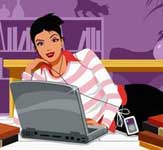 Last night, I was at the wake of my aunt who recently died of cancer. Everyone in my family even the ones living far from us came to condole with my aunt's sister and brothers. It is sometimes an irony how a death in the family can bring the family together. I saw my cousins whom I have not seen in such a long time. We enjoyed each others company playing cards, eating and of course, the never-ending chit-chats. The wake was held at our ancestral home in the province where we all grew up and we reminisce of all those times we spend playing around the backyard and missing our other cousins who are now residing or working overseas. And since I brought along my laptop, I texted my cousin in the US if she's available to chat with us and she said we can have a video conferencing instead so we could see each others faces while were chatting.
Its amazing how technology works these days and thank heavens for the internet within minutes we are already having a video conferencing with my cousin and the rest of her family in the US, the older generations in my family (we call them oldies) were so astonished with video conferencing that somehow they just wonder how it could work… Well, after a very long explanation that I hope they understood we end up having fun.
Yes, it's an irony how death can bring a family together and it's nice that we can all take a break from our busy lives to be with each other. It's like having a reunion and its not even New Year yet. I guess, we all have to stick together to mourn to make the grieving process a bit easier. My family suffered three deaths from cancer this year alone and personally, I feel sad because I became closer to them when I also had to go through chemo therapy. It was nice to have someone understand what you're going through. I really pray that they will find the cure for cancer soon so that I wont be losing any of my loved-ones anymore because of that culprit.
Labels: miscellaneous, personal