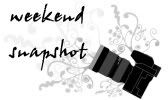 I had a great weekend with my college buddies. After attending the travel expo and booked our future travel plans for the summer we spent the afternoon at PierOne and later that evening we watched Freestyle in concert, sorry about the picture I only used my camera phone.
It was fun and it's no wonder we were starving and craving for some more fun... Want to have a bite ?
Have a nice week ahead!
Labels: meme, personal, weekend snapshot