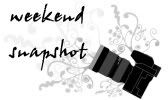 It was a festive weekend for me. My mother's hometown held a mini barrio fiesta and everyone was in high spirits despite the humid weather. With their dancing shoes and Filipiniana costume, their shaking it down...
What's with all these dancing if there's no marching band?
It was a splendid weekend with my family, how's your weekend?
Labels: meme, personal, weekend snapshot