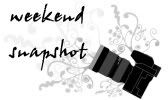 It was a stormy weekend and I am very thankful that even though the nearby towns were submerged in flood waters we were spared and we didn't get affected by the strong typhoon.
There's nothing much we can do because there's flood everywhere, so my family and I just bond together and prayed for the people who were at the capsized ship, hoping they could still find more survivors. My heart goes out to them...
On the lighter side, we shared this delicious meal called champorado and it's partner "tuyo" or dried fish. It is a perfect meal for a stormy day...
Have a nice week ahead!
Labels: meme, personal, weekend snapshot