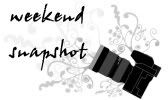 It's so nice to be back here again. After several weeks of being sick I stayed at the hospital for a couple of days and was forced to stay at home to get better.
Yesterday was my first weekend away from home and it felt wonderful to be out again. I was invited to be a godmother to a friend's newly born daughter. It's so nice to be with my friends again.
a stolen shot with all my godchildren
That's one of the role of being one of the three remaining single in my friend's circle, I am either the bridesmaid or the ninang (godmother) to their kids. I don't mind, I love children. In fact after the reception I went to my grandmother's house and I was surrounded again by my nieces and nephews. There's a baby boom in my family and I just love being a part of our growing happy family...

Labels: meme, personal, weekend snapshot